Product Description
If You want to try video mapping loops this pack (Gold Edition) will be a best choice!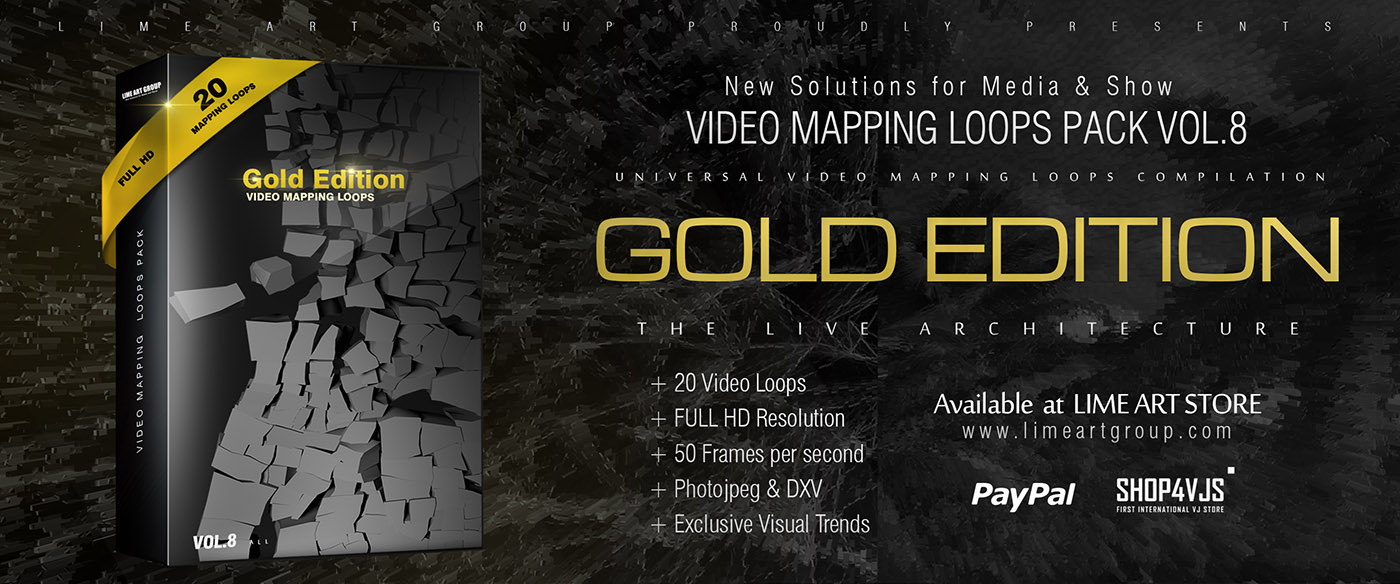 Video Mapping Loops Vol.8 – Gold Edition
Video Loops pack included video mapping loops
from followings packs:
Vol.2 Smart Reflection. Vol.3 Fallen & Rise. Vol.4 Fluid Fabrics. Vol.5 Panorama. Vol.6 Wire Texture. Vol.7 Displacement Mapps. Vol.1 3D Mapping Toolkit

Video Mapping Loops Pack Vol.8 – Gold Edition. Special for VJ's and Media Artists. For Architectural and interior and cubes Video Mapping. For different Architectural Styles: Ancient / Islamic / Asian / Gothic / Modern / Baroque / Futuristic / Neo etc. 20 Video Mapping Loops with high quality resolution / FULL HD 1080p50. Exclusive Visual Trends.
220.00 € Add to cart

DON'T FORGET!!!
After purchasing vj loops packs for more of 300 Euro by LIME ART GROUP – You also will get an accses to Free download Full HD
special
free video loops packs
(Partner Access to Visual Cloud)
Only for LIME ART STORE Customers!
Get More with LIME ART GROUP!