Download Video Mapping Toolkits Winter Bundle. 3D Animation for Christmas events
Winter is coming! Show the spirit of New Year, Christmas and cold times. Mapping tools of facade covered in ice, snow or even spruce branches. Show the background freezing and become covered in beautiful frost patterns. Bundle contains 3 Video Mapping Toolkits, 1 Video Mapping Loops Pack and 2 VJ Loops Packs for EDM Events with winter spirit.
Also, some Secret Gift inside!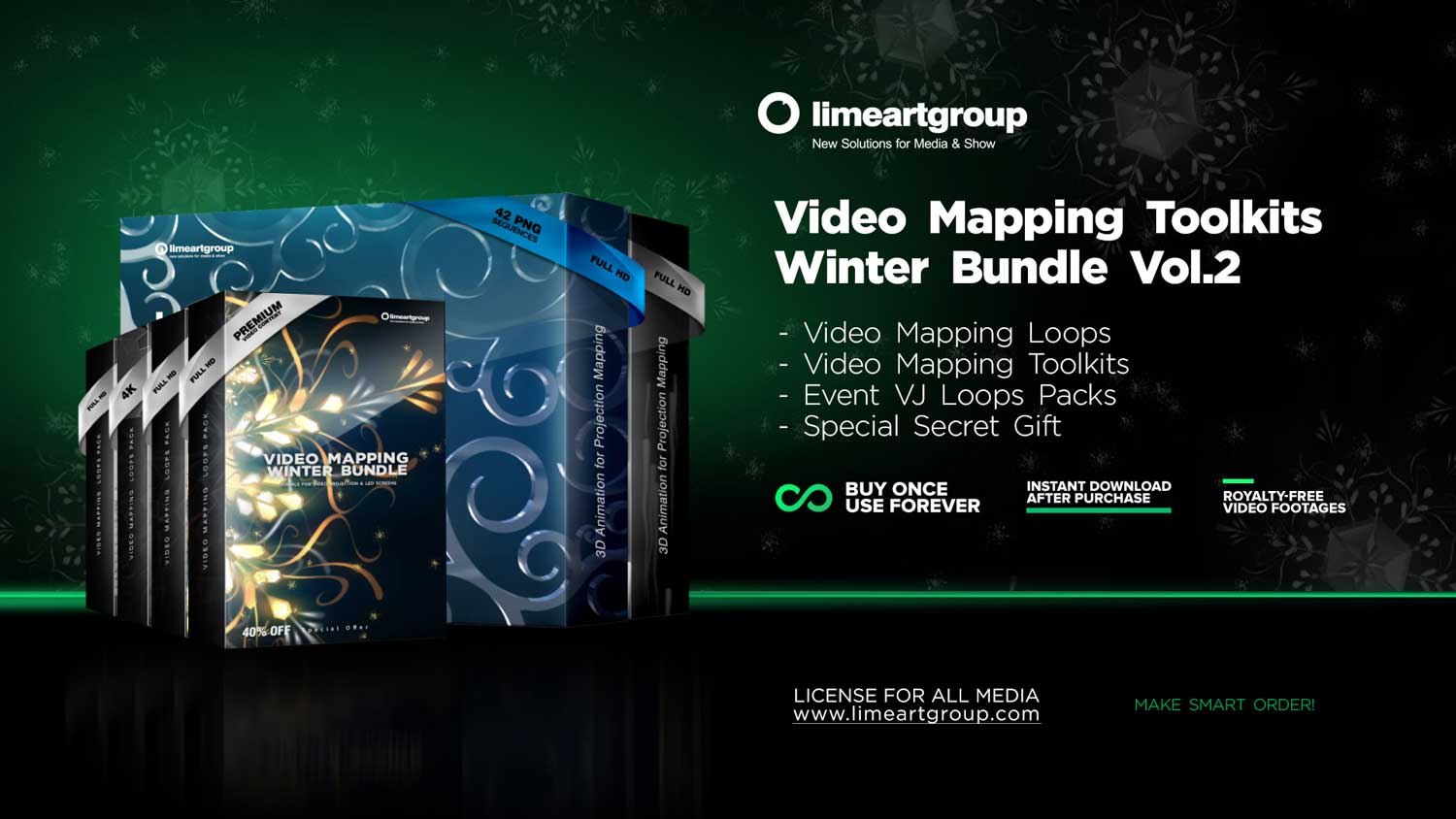 After purchase Video Mapping Toolkits Winter Bundle Vol.2 You will get a confirmation Email with PDF invoice and links for instant download.
Animated architectural elements produced with different 3D Animation effect. Use Video Mapping Toolkit Vol.12  -- Crystal Hall to change architecture geometry on the projection. Video Mapping Toolkit Vol.17 -- Ice Palace will helps You to freeze architecture with the ice effect. And Christmas Tree  -- Video Mapping Toolkit will grow Trees on your Facade.
Video Preview of Christmas Tree Video Mapping Toolkit.
Christmas Tree - VIdeo Mapping Toolkit Vol.18 - ✅ LIME ART GROUP

If You are company registered inside European Union (exept Austria) You can purchase Video Mapping Toolkits Winter Bundle Vol.2 without VAT simply entered Your TAX number on checkout page. (Reverse-charge system).
Download Royalty Free exclusive visuals for Projection 3D Mapping Video Show.
Video Mapping Toolkit Winter Bundle Vol.2 is also contains one  Video Mapping Loops Pack -- Fold Surface, which produced in Full HD and 4K Video Resolution. This Video Mapping Pack will helps you to change the Facade surface and transitions between your scenes.  Create Video Mapping 90% faster without plugins or scripts -- Use 3D Effect Video Footage for Your Video Projection Show. Compatible with all VJ and Video Mapping Software
Motion Graphics, 3D Animation and Visuals for Christmas and New Year Party Events!
Video Mapping Loops - Architecture Projection 3D Mapping
Video VJ Loops Pack -- Strukt
Original geometry patterns and video textures in blue color and with ice effect. Amazing Strobing VJ Loops for any EDM events.
Decolines  -- Vj Loops Pack
Browse luxury slow motion decorative lines with light blue glowing effect isolated on black background. Good Visuals for VJing and slowly Video Mixing.

Video Mapping Tutorial.
Look how you can use Video Mapping Toolkits. Get more Projection Mapping Courses here.

Video Mapping Tutorial 1: How to do Projection Mapping
Full HD, 29 fps, Architecture, Displace, Png, Dxv, Blue, Lines, Tree, Strobe, Resolume, Nature, Ice, Green, 3D, Building projections, Distortion, Facade, Flourish, Growing, Growing Plants, Fold, Winter, New Year, 3D Projection, Environmental Projection, Projection Art, Wall Projection, Projection Advertising, Holidays, Santa Claus, Snowflakes, Snow, Christmas Tree, Video projection ideas