Animated facade elements for architectural video mapping
Shop Video Mapping Toolkits HDD Projection Kit
Expand your tool set for video mapping with this kit. Get all video mapping toolkits ever produced by Lime Art Group in one hard drive delivered straight to your door.
We are offering hundreds of architectural elements for projection 3d mapping and visualization compiled in a single physical storage. Now you can save not only your time without spending it on waiting for download, not only memory — you will get a fresh new hard drive, but even money — now we are offering this HDD Kit with a really impressive discount!
In addition to all available Video Mapping Tools you will get all Video Mapping Audio Packs and all Projection Textures Packs as bonus.

PNG Scenes with alpha channel for architectural video mapping
 Look image preview of video mapping toolkit. Quality of images is a bit compressed for better website performance.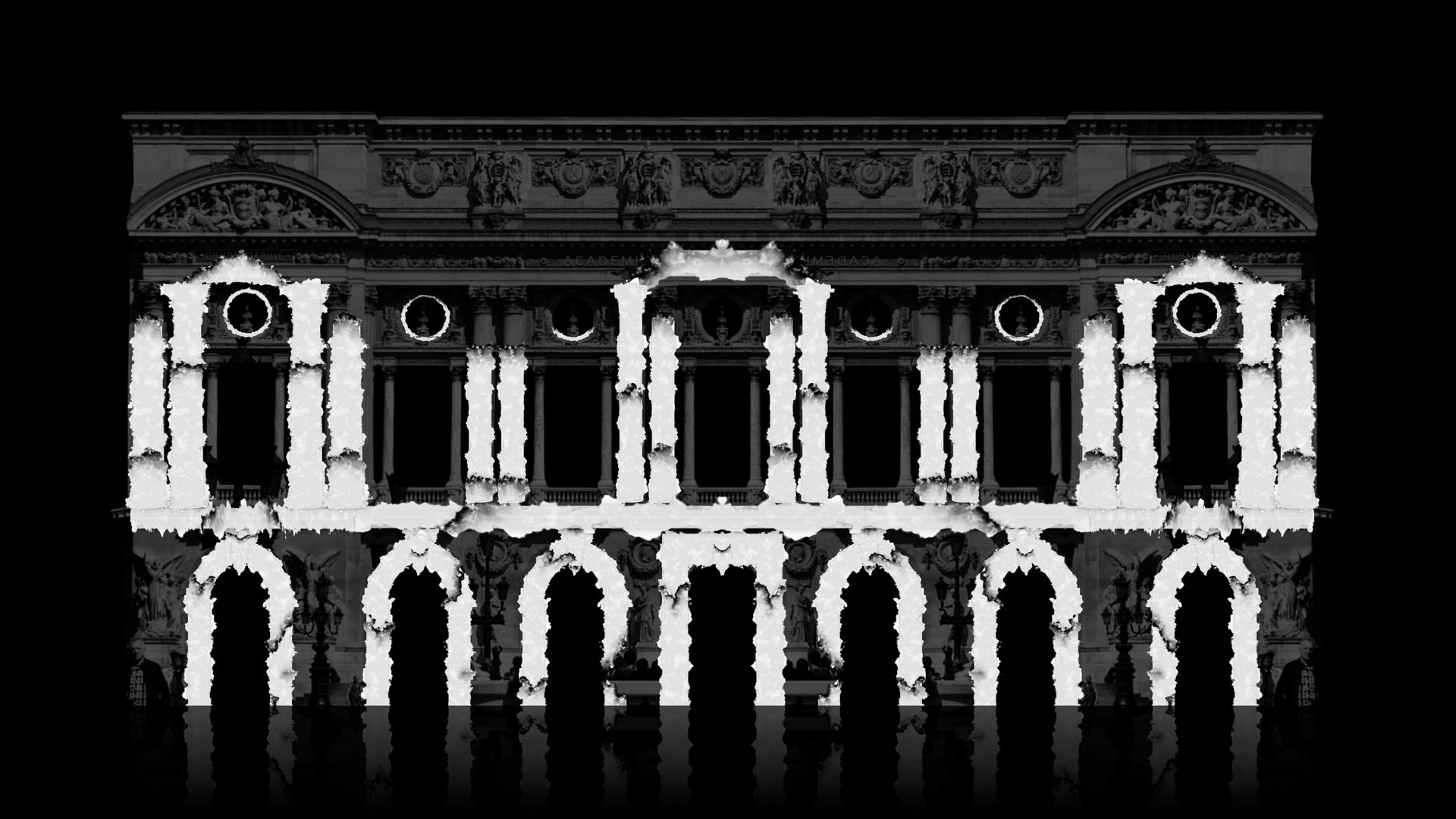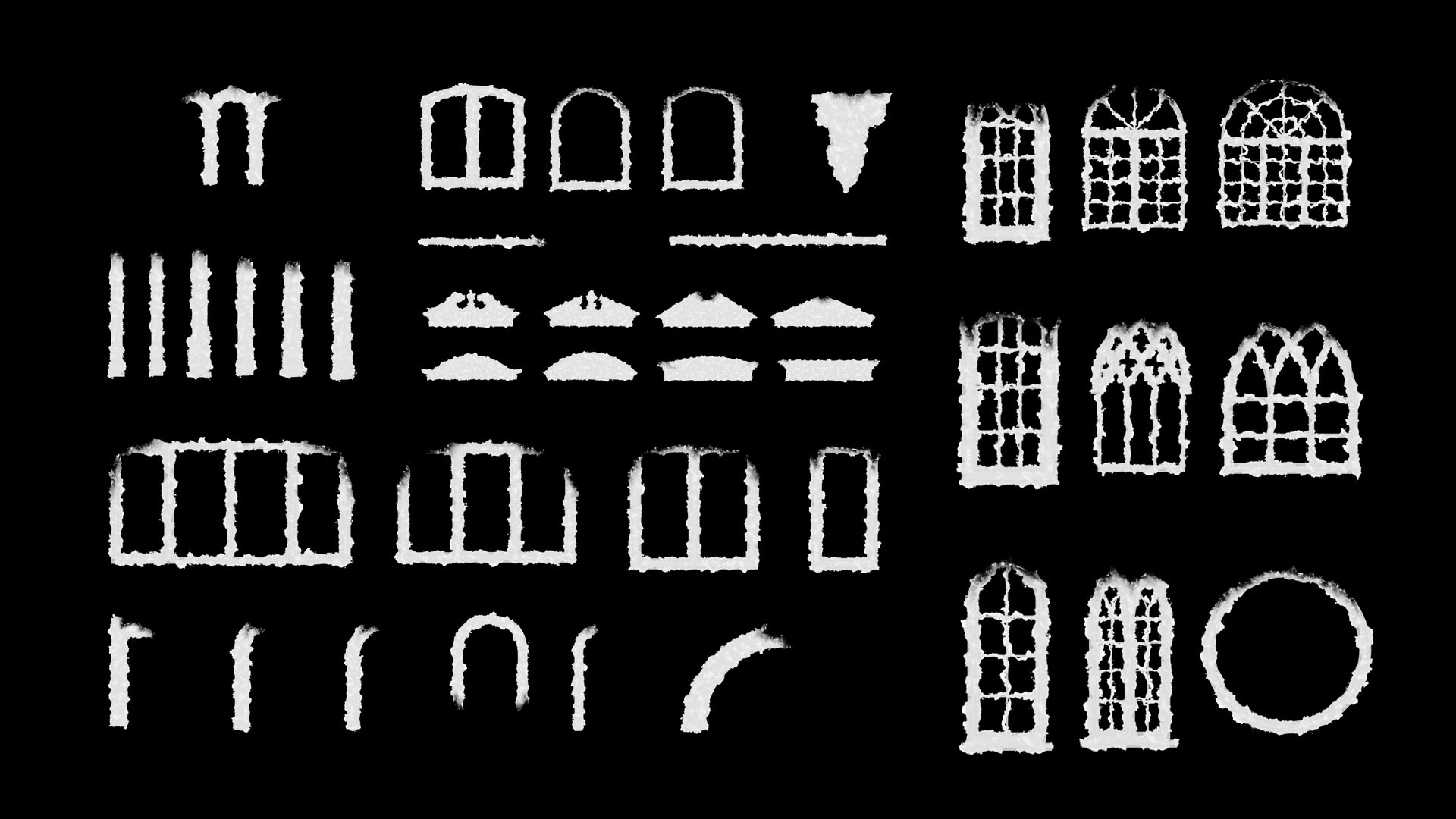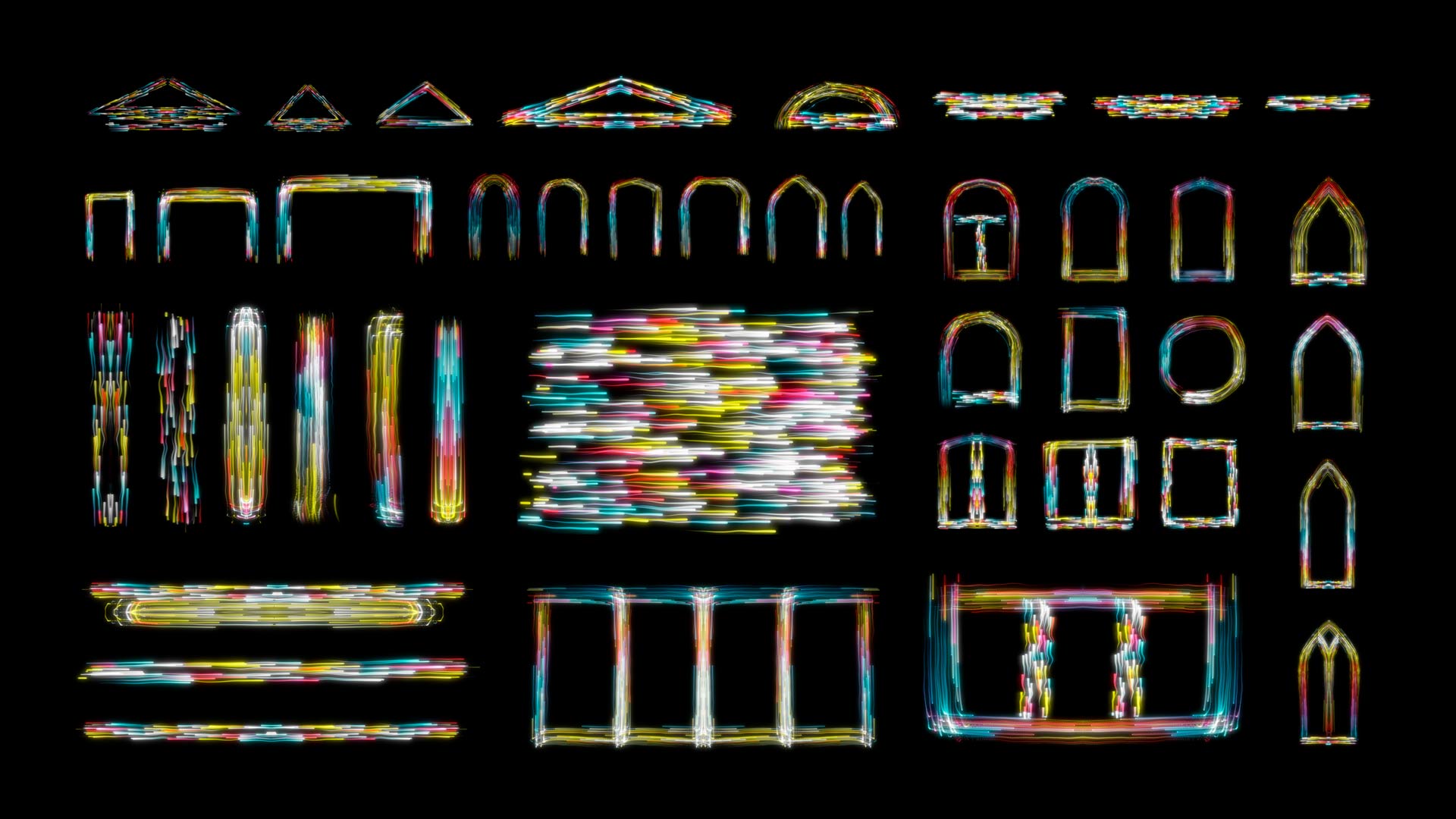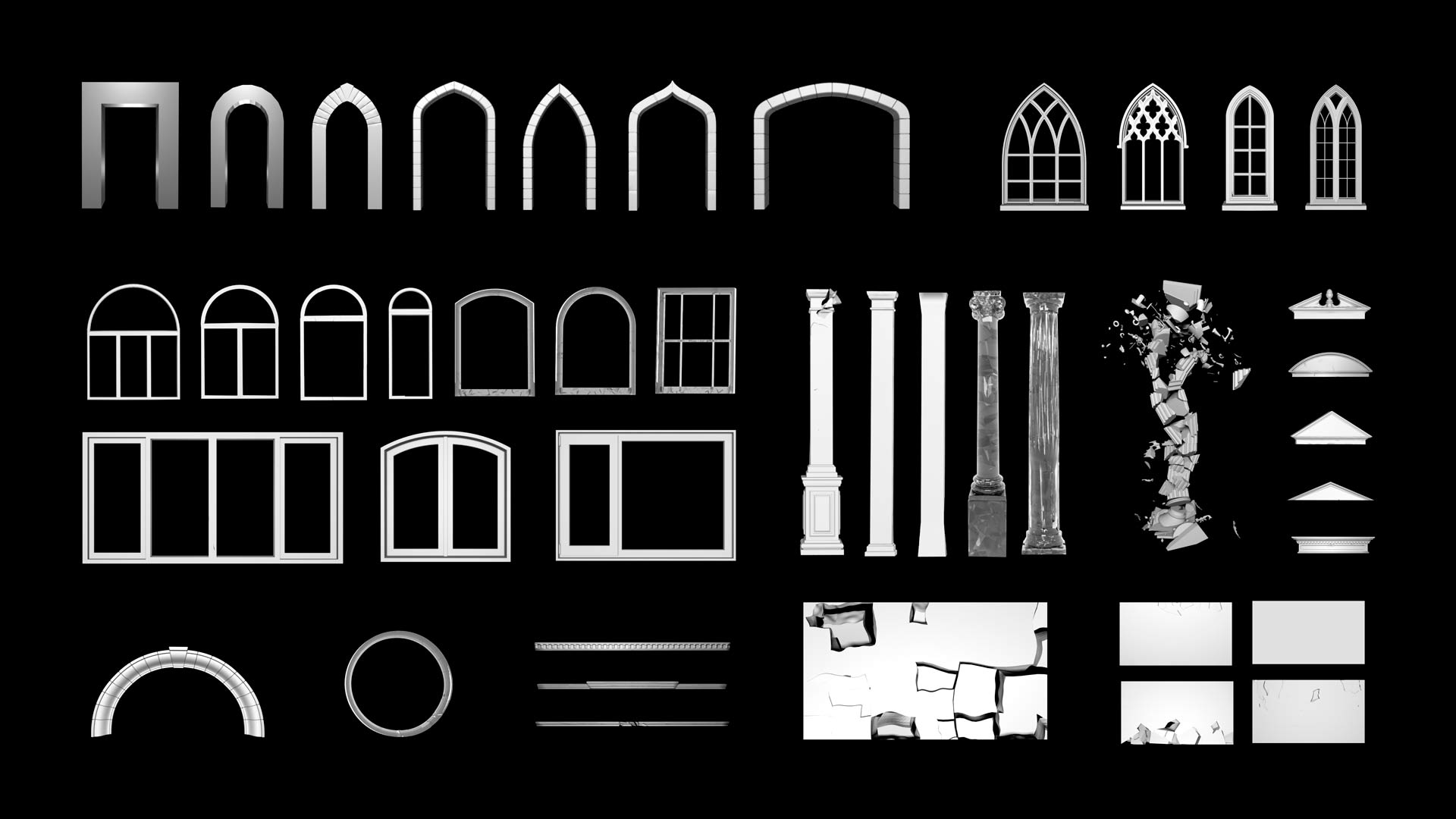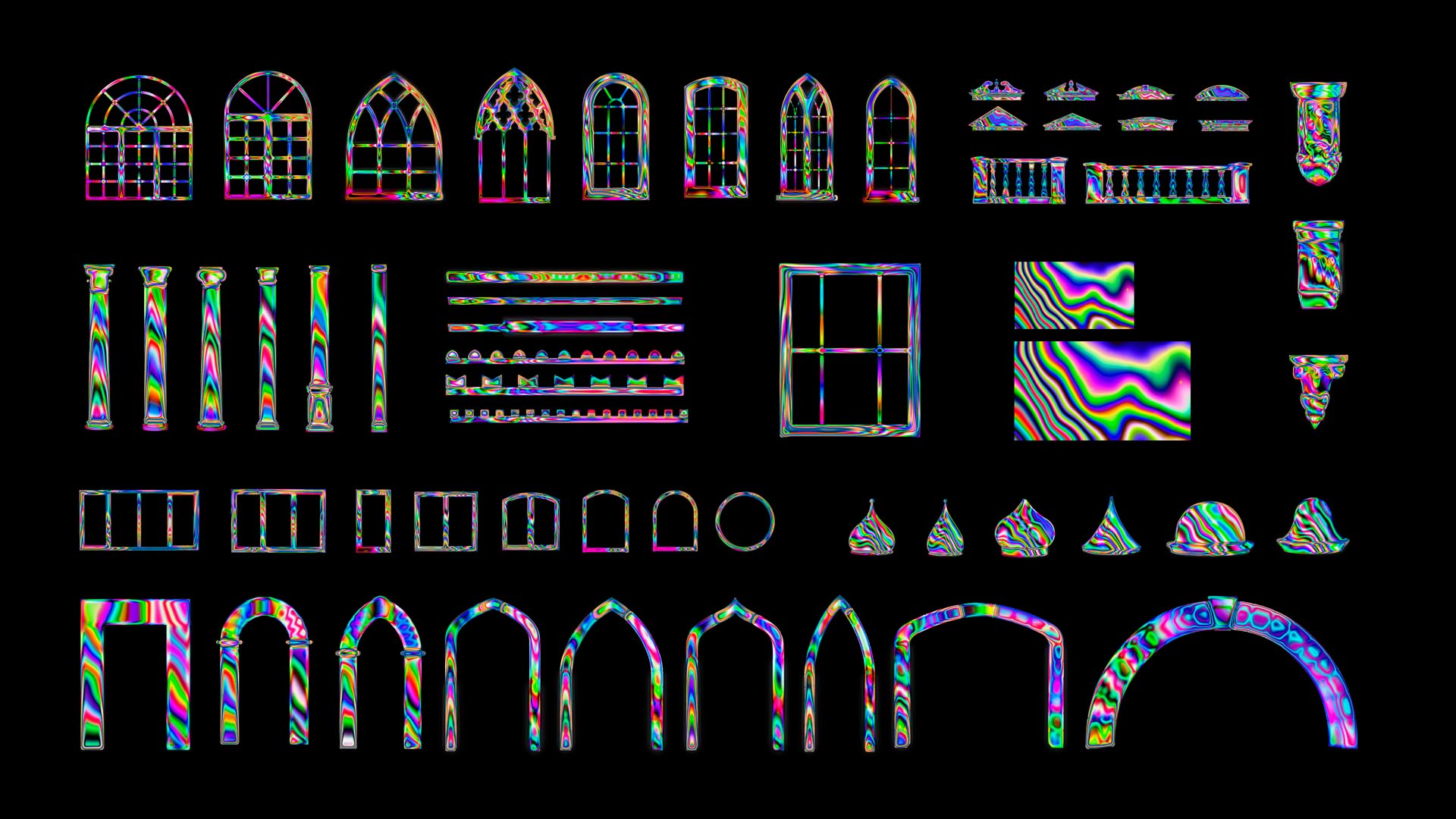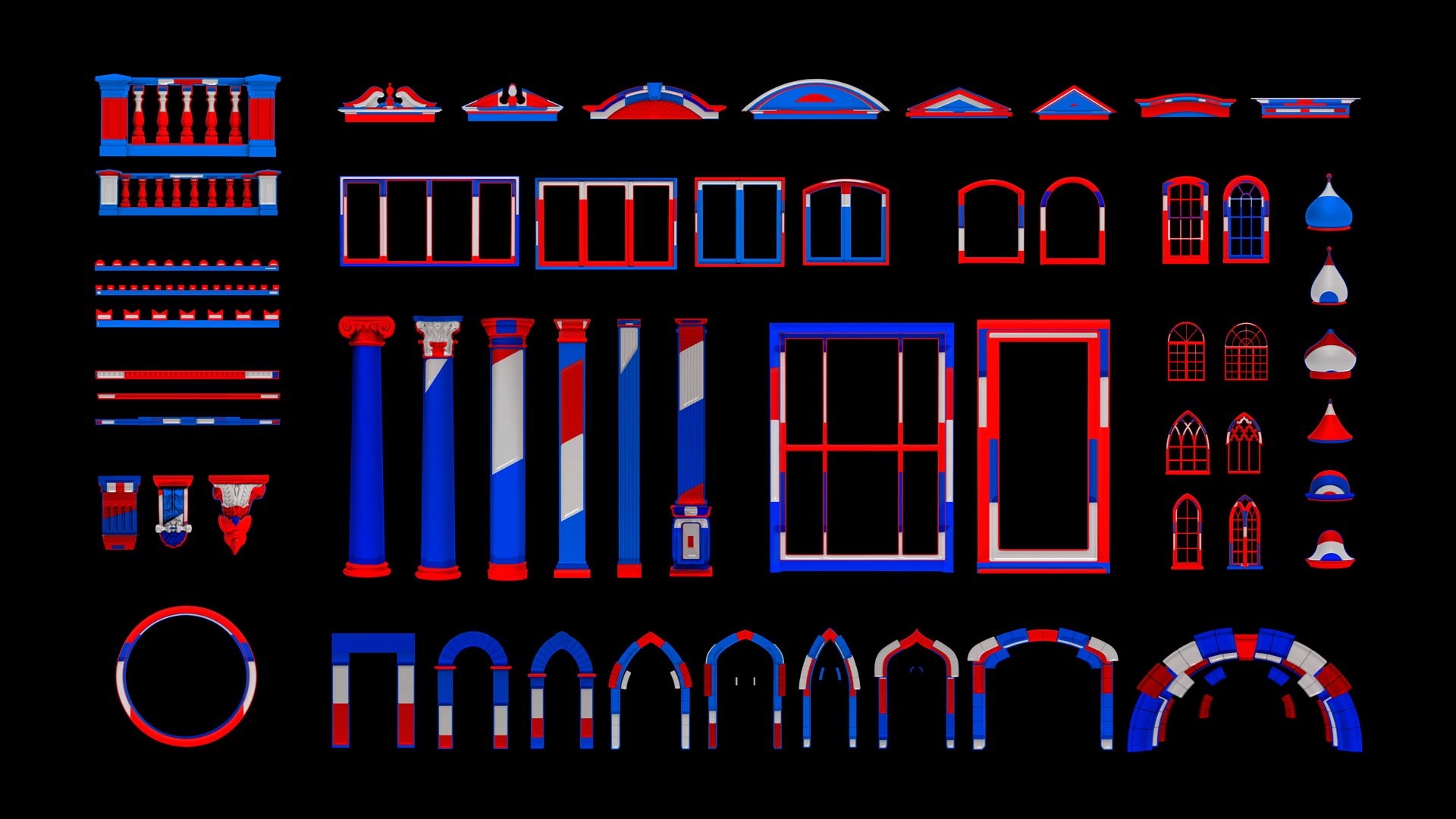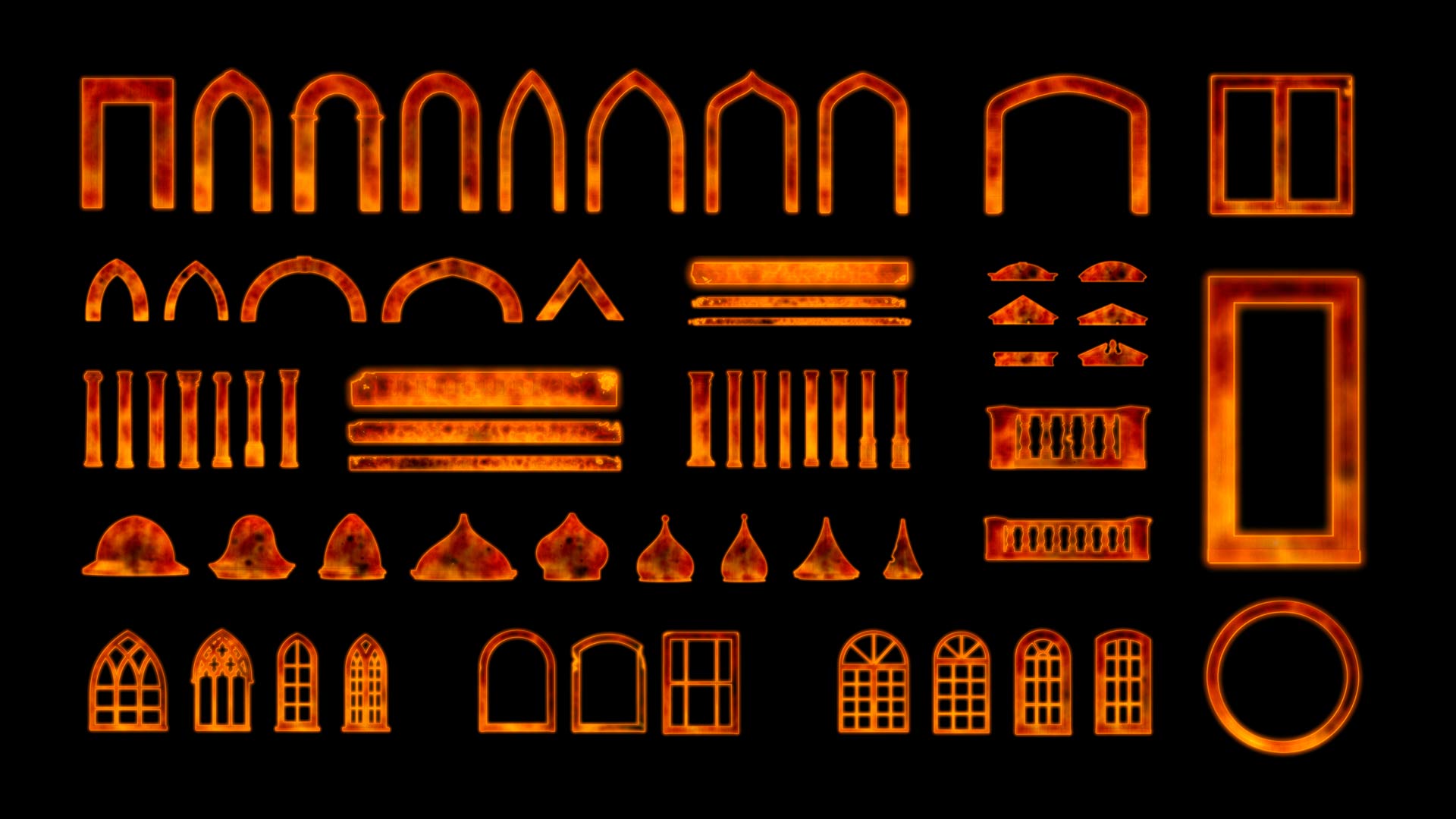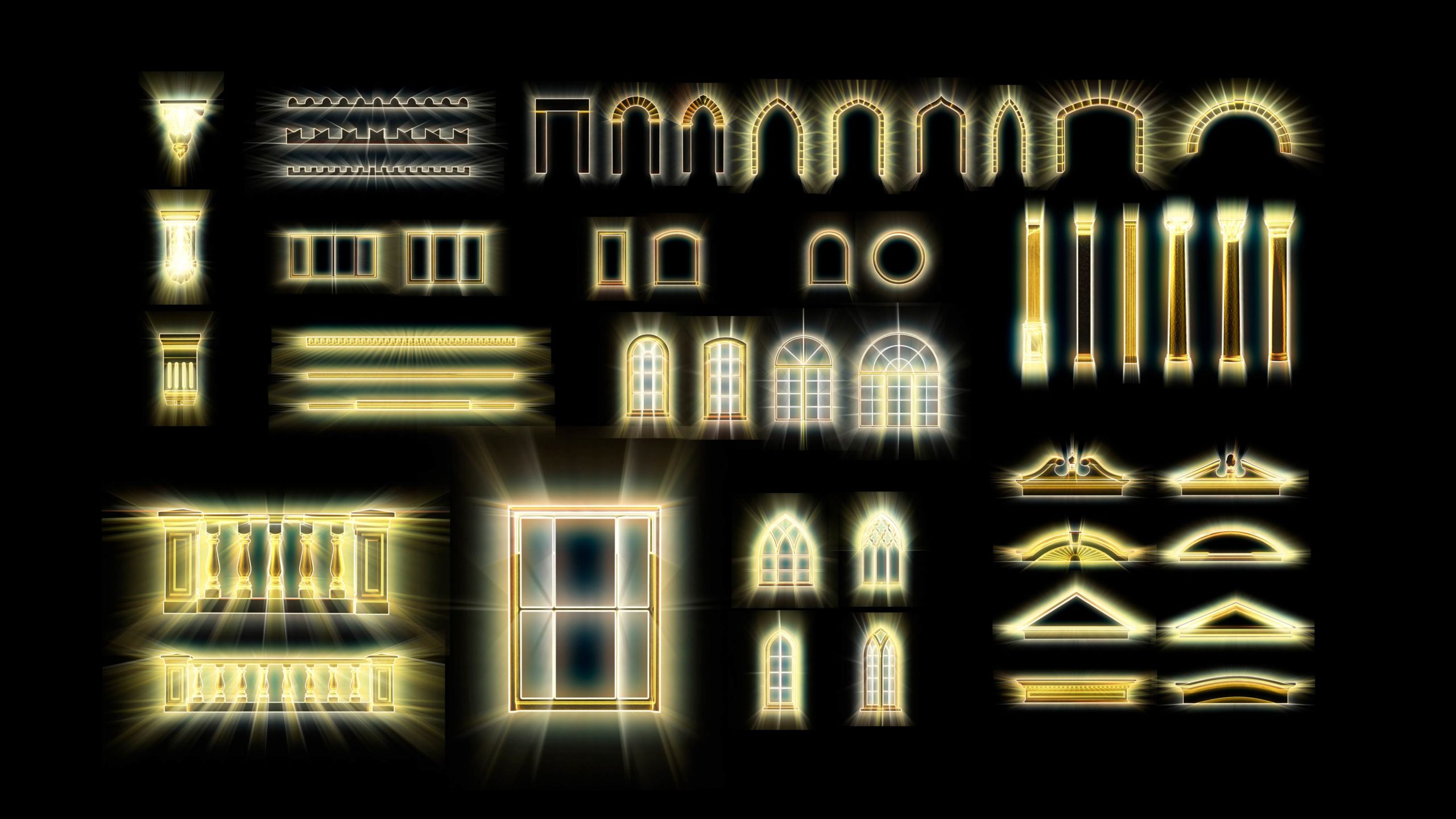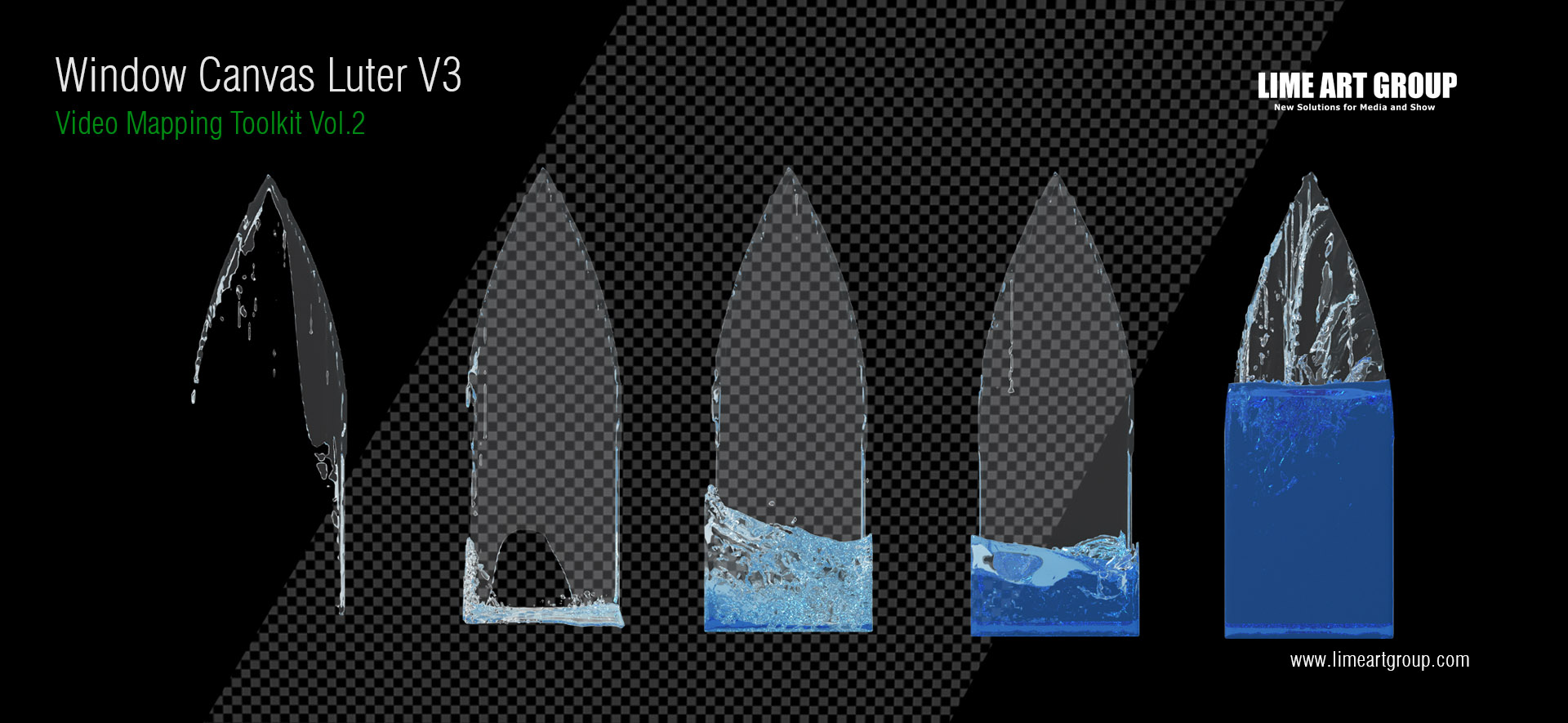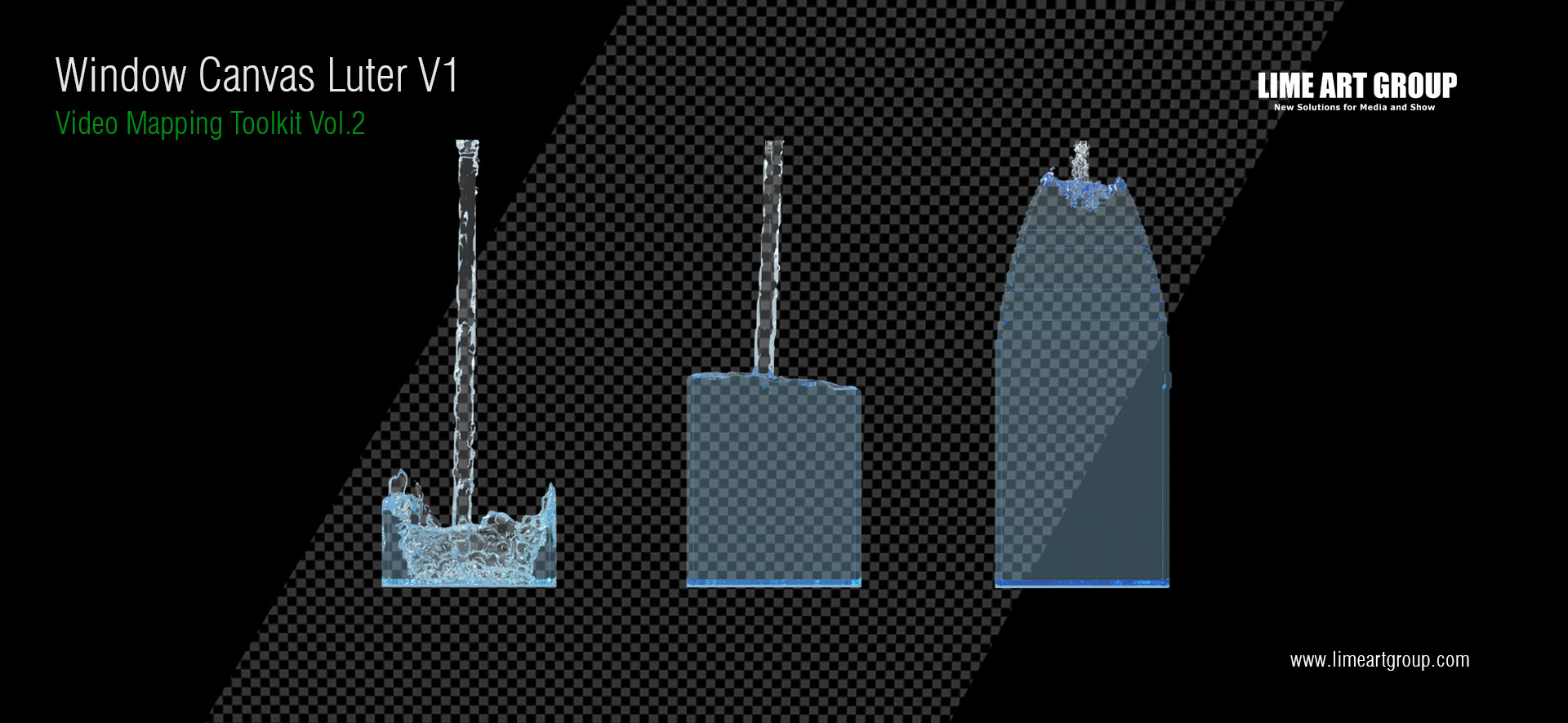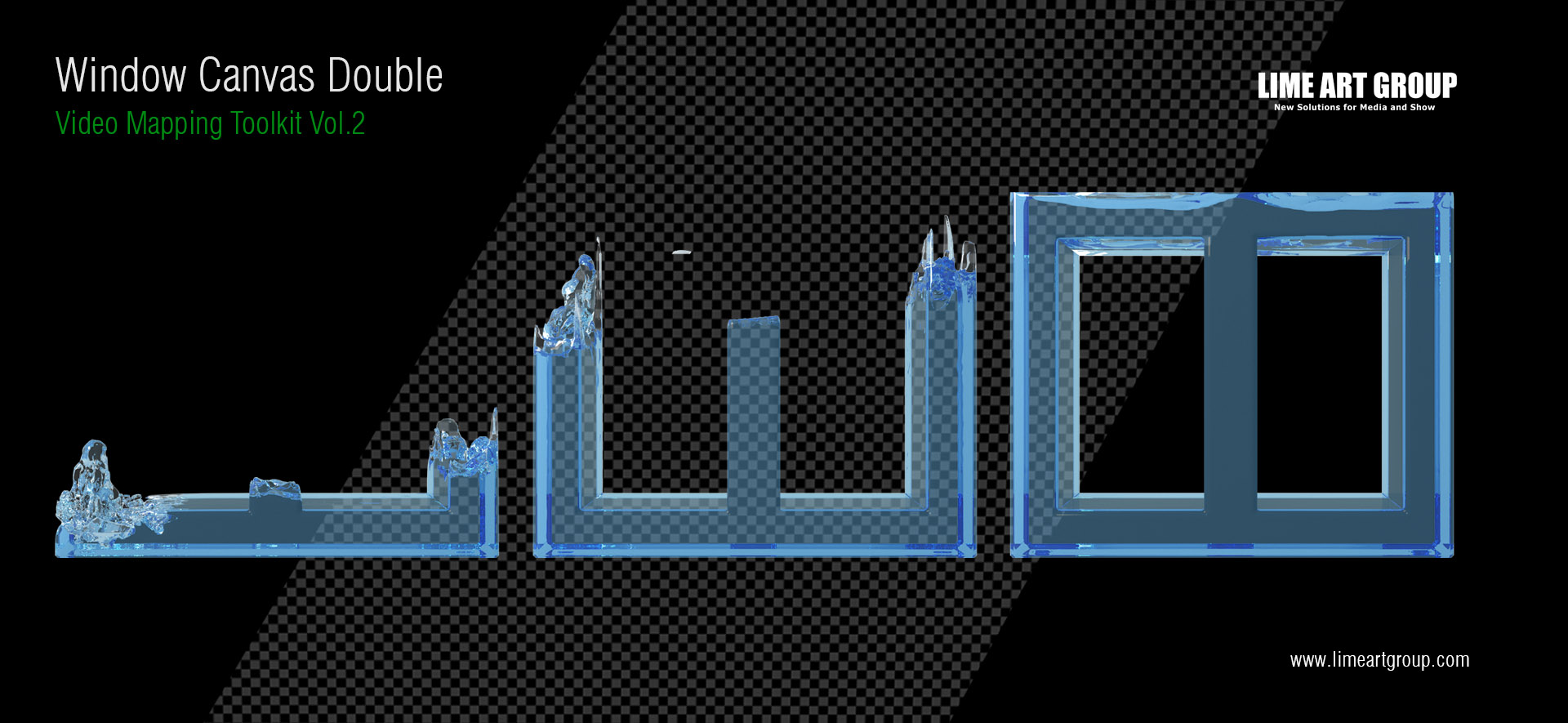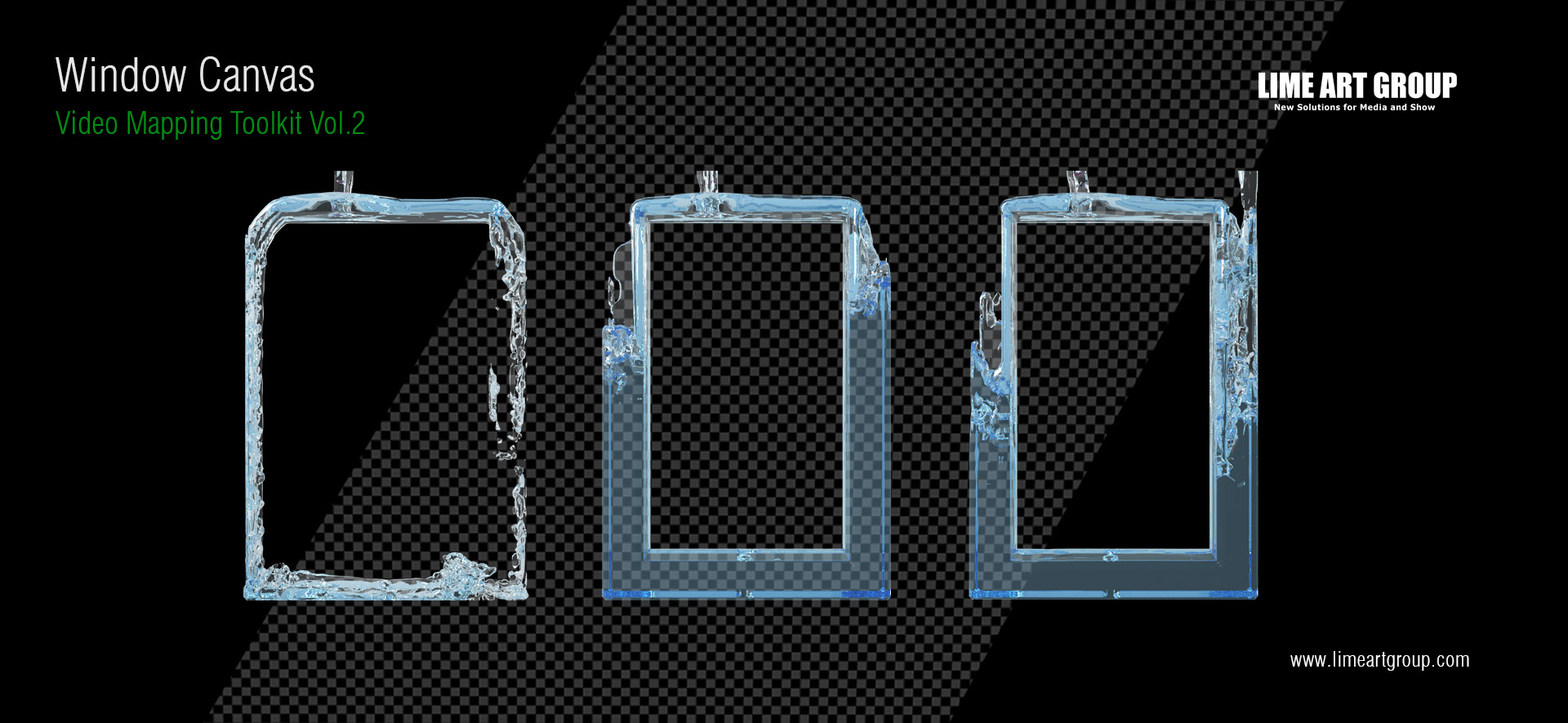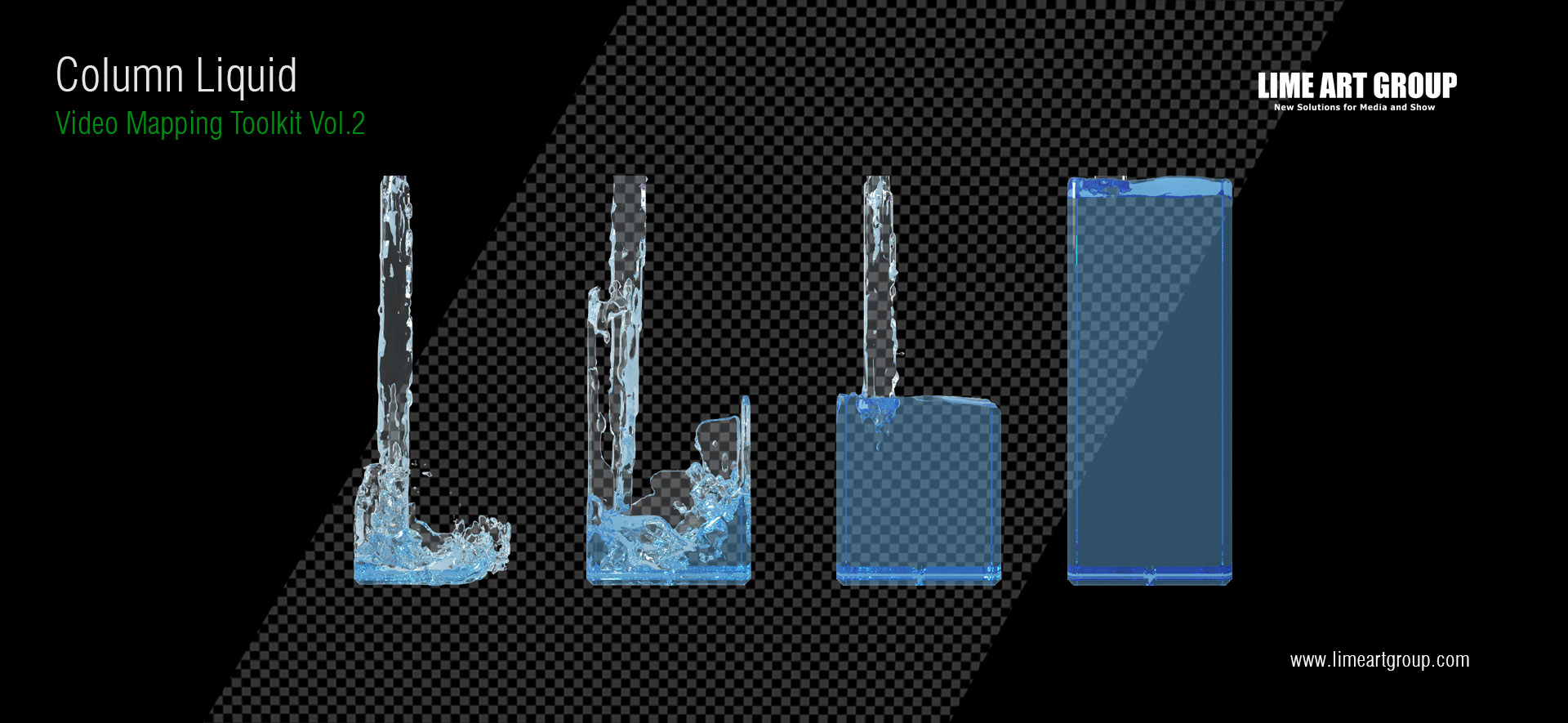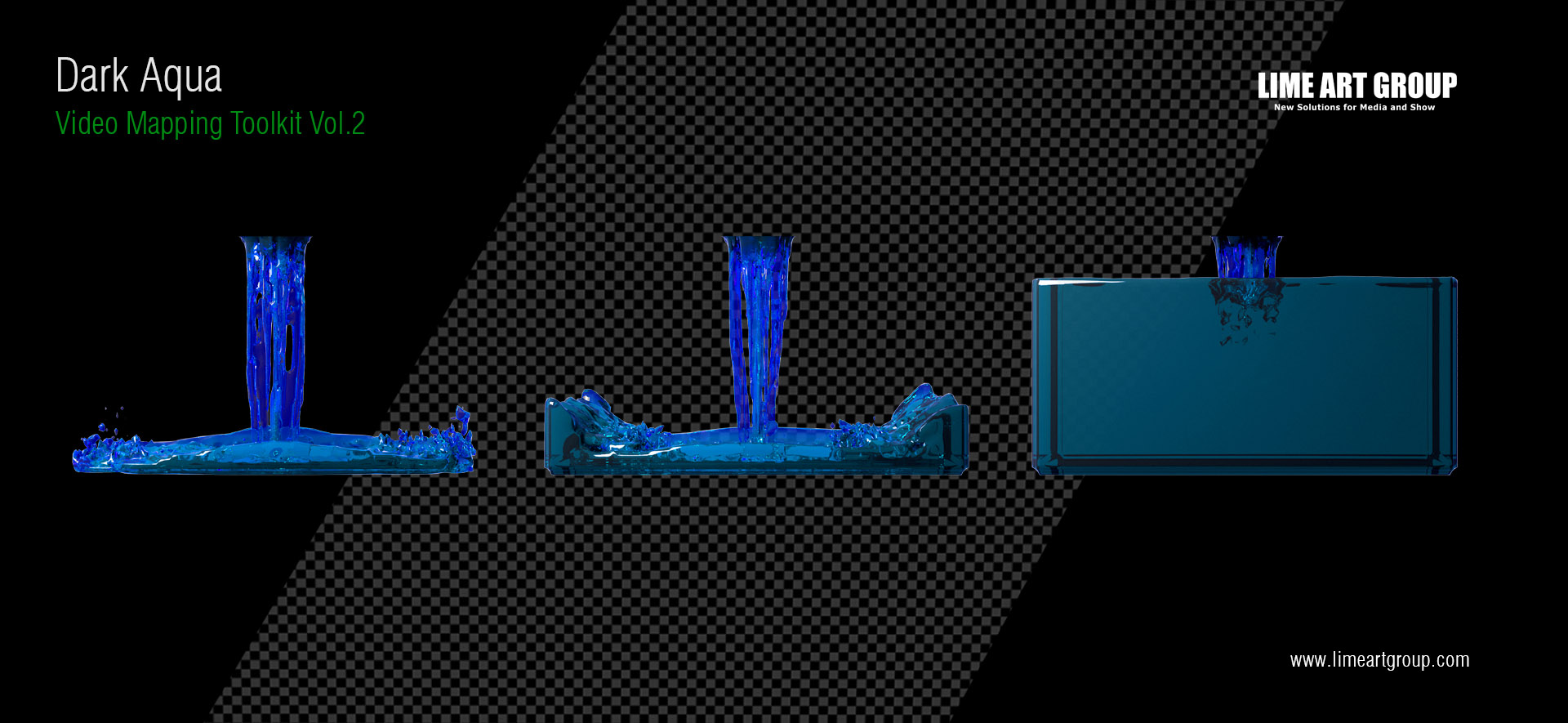 Royalty free lifetime license for all video mapping toolkits PNG Scenes. Buy once – use forever. RF License for all types of media. 
Instant download after purchase
After purchase Video Mapping Toolkit You will get a confirmation E-mail with PDF Invoice and links for instant download. Additionally we can provide access via Google Drive
Growing plants animation with alpha channel
Green Nature – Video Mapping Toolkit Vol.1
Projection mapping essential 3D effects, white colored loops, for your to easily overlay on your footage and create a 3D mapping effect. Clips like breaking walls, growing pillars, extrusion effects and many more. Nature loops with growing leaves and wines on pillars, organic nature animation and realistic-looking greenery. You can easily map onto pillars, arches, doorways, windows or any other structure and create a professional 3D mapping show.
Water animation with alpha channel
Call Poseidon – Video Mapping Toolkit Vol.2
A unique and exclusive 3D mapping kit with water animation. Save yourself a ton of render time with these animations. Find full flat walls filling up with realistic-looking water. Pillars, doorways and arches, fill up with water / fluid animation. Rendered in 3D with proper fluid simulation, perspective depth, trickling water and even water splashes. Different kinds of water animations, ready for projection mapping.
White facade elements
Video Mapping Toolkit Vol.3 – Facade
This toolkit will help you projection map the facade of a building. Minimal, smooth and organic 3D animations. White and grey coloured 3D reveal animations, that wrap around pillars, doors, windows, beams and other architectural structures. Easily make pillars grow, and reveal arches, highlight edges of the building, among other animations perfect for the face of any building.
Liquid distortion architecture
Video Mapping Toolkit Vol.4 – Liquid Displace
High-quality glowing lines, displaced in 3d to give a fluid effect. An exclusive toolkit, which helps you highlight various parts of the building. Neon-white glowing lines, displaced in 3D depth, create an optical illusion. Carefully animated with multiple layers and lots of animation effects that make the building come alive, with movement and perspective. Perfect for eye-catching building mapping projections.
Shine, Rays and Holly Effects
Light Rays – Video Mapping Toolkit Vol.5
Growing animated lines with light ray effects, golden glows and shine. 3D animated for projection mapping on buildings. Growing pillars, expanding arches, doorway edges, window trimming and other elements. Highlight the edges of the building and make your structure grow and shine with dazzling golden light.
Burning elements in architectural forms
Burning Wood – Video Mapping Toolkit Vol.6
Burning wood is a mapping kit that will help you transform the facade of any building into a red hot fiery effect. Animated fire lines, grow around the edges, turning into a complete fire, to reveal a wooden surface. Put the building on fire and turn it into a wooden structure. Each element is available individually, so you can mix and match it to create a burning effect for your projection mapping structure or building.
Red-Blue-White – Tricolor
Colorful France
– Video Mapping Toolkit Vol.7
Colors in motion, inspired by the French flag. Blue, white and red colors are animated with motion. Decorate the building with smooth motion and flow of colors. Growing pillars, moving edges, and colors filling up window frames, among others. Easily cover any door, window, pillar or other ornate objects and add a splash of color to your projection mapping project.
Psychedelic color theme
Visual PSY LSD – Video Mapping Toolkit Vol.8
Cover the façade of any building or object with this amazing psychedelic mapping kit. All the colors in the gamut are carefully animated, with lots of distortion effects. Professionally created effects creating a unique psychedelic-looking experience. A glassy shine and metallic look make these animations look stunning. Projection map anything with psy colors and a glossy metallic effect.
Hair animated elements
Hi Chewbacca – Video Mapping Toolkit Vol.9
White fluffy hair, fur or carpet, call it whatever you want, this unique and exclusive mapping toolkit is one of a kind. Cover your structure or building with white fluffy hair animations. Created by professional artists with detailed texturing and minimal smooth animations. Each element is available individually like Pillars, Doors, Windows, Arches and other structural elements.
3D animated architectural elements with Alpha channel
Stone Reflect – Video Mapping Toolkit Vol.10
3D animated stone effects for building mapping and object mapping. High-quality animations with white stones, allow you to easily overlay other effects. Walls breaking with 3D effect, pillars growing stone by stone, window trimming and other edge effects. Reflecting shiny stone effects, to make your structure stand out. Each element is available individually for mapping.
Glitched facade elements
Glitch Reload – Video Mapping Toolkit Vol.11
Professionally created Glitch art animations for video mapping. Make your building facade shake and dance to Glitch music. Minimal and classy animations in white, blue and gold theme. Each element like window, pillars, arches, and other structural elements are broken up and animated in Glitch style.
Geometric distortion
Crystal Hall – Video Mapping Toolkit Vol.12
Shiny 3D crystal effects for mapping. Animated 3D crystals that appear broken into many pieces and come together to form a solid crystal-like structure. High-quality render with proper crystal effects. All individual elements available like doors, windows, arches, etc
Handcrafted animation
Plasticine – Video Mapping Toolkit Vol.13
Make your building structure look like clay or plastic with this effect toolkit. Individual elements like pillars, doors and walls have been animated with high quality plastic like effects. It appears as though clay is growing and covering the building. A uniuqe and fun projection mapping element.
Beautiful garden flowers on facade
Flower Boom – Video Mapping Toolkit Vol.14
Soft, minimal growing flower animations for videomapping. Many different types of flowers and a mixed variety of colors have been used to create aesthetic animated flower arrangements. Grow pillars with flowers, decorate the walls with flowers, cover arches and other edges with minimal flower animations. Each element is available individually in this video mapping toolkit.
Colorful Lines flow animation
Magic Lines – Video Mapping Toolkit Vol.16
High energy lines for video mapping. Graphically enhances lines that look almost like water or clouds. Minimal, classy with lots of energy. Growing lines with glows that give an ethereal effect. Lines of various shapes, size and colors have been used to create a unique effect for creating a awe inspiring effect. Individual elements available in this toolkit.
Frost ice texture
Ice Palace – Video Mapping Toolkit Vol.17
Convert the facade of any building to ice using this video mapping toolkit. High-quality animation of slowly forming white ice, forming in a slow and smooth motion. Ice freezes deeper to give a more blue effect like a sheet of ice. 3D animations that create a realistic ice effect.
Growing branches for New Year
Christmas Tree – Video Mapping Toolkit Vol.18
Classic minimal growing Christmas leaves animations. Slowly growing leaves give a very soothing effect. They grow to form various shapes to fill pill pillars, window frames, walls and other structural elements. Green growing leaves that look like a growing Christmas tree.
Rose petals on alpha channel
Rose House – Video Mapping Toolkit Vol.19
Animated roses that grow and fill up the space. Rose petals come flying in with spinning motion, creating a 3D depth effect to fill up pillars, window frames and other structural elements. Very fluid and smooth animation that make the flower petals look beautiful and give you a sense of relaxation. Individual elements available to cover the facade of any building.
Royal imperial facade elements
Golden Age – Video Mapping Toolkit Vol.20
Opulent gold ornate animations to decorate the facade of any video mapping project. High-quality intricate gold animations, and ornate objects animated to give a royal and plush feel. Covering the facade with 3D animated gold lines and gold effect. Created with depth and movement to give the look of a royal palace. Convert any structure into a majestic building with this toolkit.
Arabic facade signs
Islam Signs – Video Mapping Toolkit Vol.21
Islamic architecture is known for their intricate art work. This toolkit has been inspired by Islamic art and architecture. Growing and glowing Islamic art, creates a unique and artistic effect. Minimally animated with growing effects, glows and light rays. This toolkit brings an ancient art for to life. Individual elements that adorn the arches, windows and walls will give the feeling of a royal Islamic architecture.
Occult golden elements
Gold Shine – Video Mapping Toolkit Vol.22
An exclusive toolkit inspired from Gold. Fluid animations almost cloth like movement with shinning gold effect. Animated lines are morphed to create a fluid gold effect, different shapes and styles have been used to create different elements for video mapping. Smooth, minimal animation, which is great for covering the facade of any building.
Colorful particles elements
Candy Particles – Video Mapping Toolkit Vol.23
Candy toolkit is a unique kit of various elements that bring fun and excitement to video mapping. Multi-cultured blobs are used to create unique, fluid like animations. Filling up the pillars, windows, walls and various other elements with these multi-colored blobs. Moving and growing with smooth effects to reveal the structure of the building, while covering it with a fun multi-colored theme.
Fire Flame on alpha channel
Fire Dust – Video Mapping Toolkit Vol.24
Unique fiery animation, that's created using motion graphics and lines. This is not your regular fire effect, but a more complex detailed animation created using lines and line art. With red, orange and burning colors, which give you a high energy effect and a multi-layer effect. Created customized to pillars, window frames and other elements of a building.
Golden particles
Gold Mine – Video Mapping Toolkit Vol.25
Inspired from forging Gold this unique toolkit gives you high quality gold particles effect. Smooth, animated gold particles come together to form a golden base effect. Giving a luxurious, smooth and silky texture to the structure. Specially created for video mapping, these gold particles are animated with 3D depth and slow effects to give it a luxury effect.
Luxury golden

sapphire

 texture
Cocoon Look – Video Mapping Toolkit Vol.26
An atmospheric video mapping toolkit. Using 3D bevels to create gold borders and shapes, with soft blue hues behind the gold bevels. Creating a very soft and minimal animation. Beautiful movement of the background and slowly growing gold bevel lines. Individual elements like doors, windows, pillars are carved out to create atmospheric animations.
Lights lines energy
Asgard Energy – Video Mapping Toolkit Vol.27
Super high-energy, neon glow, atmospheric electric lines animations. Red and blue colored electric lines grow and glow around the edges and frames of pillars, windows and other structural elements. Fast paced animation, with glow and energy effects. Individually designed to fit various elements of a building.
Futuristic techno theme
AI Architecture – Video Mapping Toolkit Vol.28
A futuristic technology themed video mapping toolkit. Yellow and white circuit lines are animated with glow, mirror and other effects to create a stunning technology based visual effect. Electric lines and circuits that grow, blink and animate on pillars, door, windows and other structural elements. Different types of circuits and line animation designs are available.
Pink Love & Cyan Colors
Blaze Comics – Video Mapping Toolkit Vol.29
Pure color play, simple, animated colors which create a water-like effect. Blue and pink colors are used to create a dual-tone animation. Using just plain colors to fill up walls, pillars and other elements. Creating a smooth, minimal, organic-looking animation. Almost like water-based colors are slowly filling up the scene. Each element is available individually and animated according to the element.
White mask animated elements
White Ink Stains – Video Mapping Toolkit Vol.30
Beautiful growing ink stains animation. White colored inked is used to create a 3D looking effect, the colored ink grows and slowly fills up the entire element like a pillar, window or walls. Depth is given making the ink stain look like smoke, fog, or any other such element with depth. Realistic animation that creates a very fluid looking effect.

Learn how to use video mapping toolkits
Watch Projection Mapping Tutorial
We did a simple video tutorial to explaining how to use video mapping toolkits in Adobe After Effects or Resolume.
Simply import PNG scene as sequences in video editing software. Adjust scale and position of each element. Play with timing. Add some color effects if you want. Create more layers, duplicate and pre-compose. Repeat. You will get amazing results in spending less time. Because we have rendered all content for You.
Video Mapping Toolkits is a self-made method and products produced by new media artist – Alexander Kuiava. For more tutorials enrol to video mapping course at Frontskill.com
Creative digital asset for multipurpose
Projection Mapping
Original visuals & motion graphics with alpha channel for projection video mapping on the building facade and different architecture. 
Virtual Reality
Exclusive visual media textures for level-design and 3D environment in augmented, virtual reality and digital art projects.
Video Production
Creative digital assets for video editing & post-production projects. Video content for advertising and decorating purpose.