Download Live Visual Loops Pack Vol.7 -- Key Messages
Words have power, especially those with deep senses, beautiful fonts and awesome animation. Now you have the ability to convey your message to your audience through your creativity. Isn't that what all artists dream about?  Key Messages VJ Loops Pack contains easy animated 12 sec. length KEYWORDS with alpha channel. Download this pack produced by Alexander Kuiava at LIME ART STORE – VJ Loops  Video Stock, and you'll get 161 FULL HD Video Loops (Quicktime DXV). Visuals are compatible with Resolume, Arkaos Grand VJ, Modul8 & VDMX VJ software. Genius is simplicity! Its easy animated KEYWORDS / 12 sec. length with alpha channel We spent our time to support You and save Yours. 161 Video Loops / FULL HD / Quicktime DXV So Welcome. 161 Video Loops / FULL HD / Quicktime DXV / Feel the force of Words!


VJ Loops Pack Preview. Download original royalty free animated typeface visuals.
You can use this Vj Loops for unlimited media based on our License Agreement. Purchase once and use forever!  The Video Art VJ Loops is compatible for all Vj software such as Resolume, Arkaos, Modul8, VDMX, CoGe. Also, with all media servers to broadcast video for Live Events. Visuals of Vj Loops Pack Vol.7 - Key Messages produced special for VJing and Live Video Mixing on LED Screens or Video Projection.
After purchase Vj Loops Pack Vol.7 - Key Messages You will get a confirmation Email with PDF invoice and links for instant download.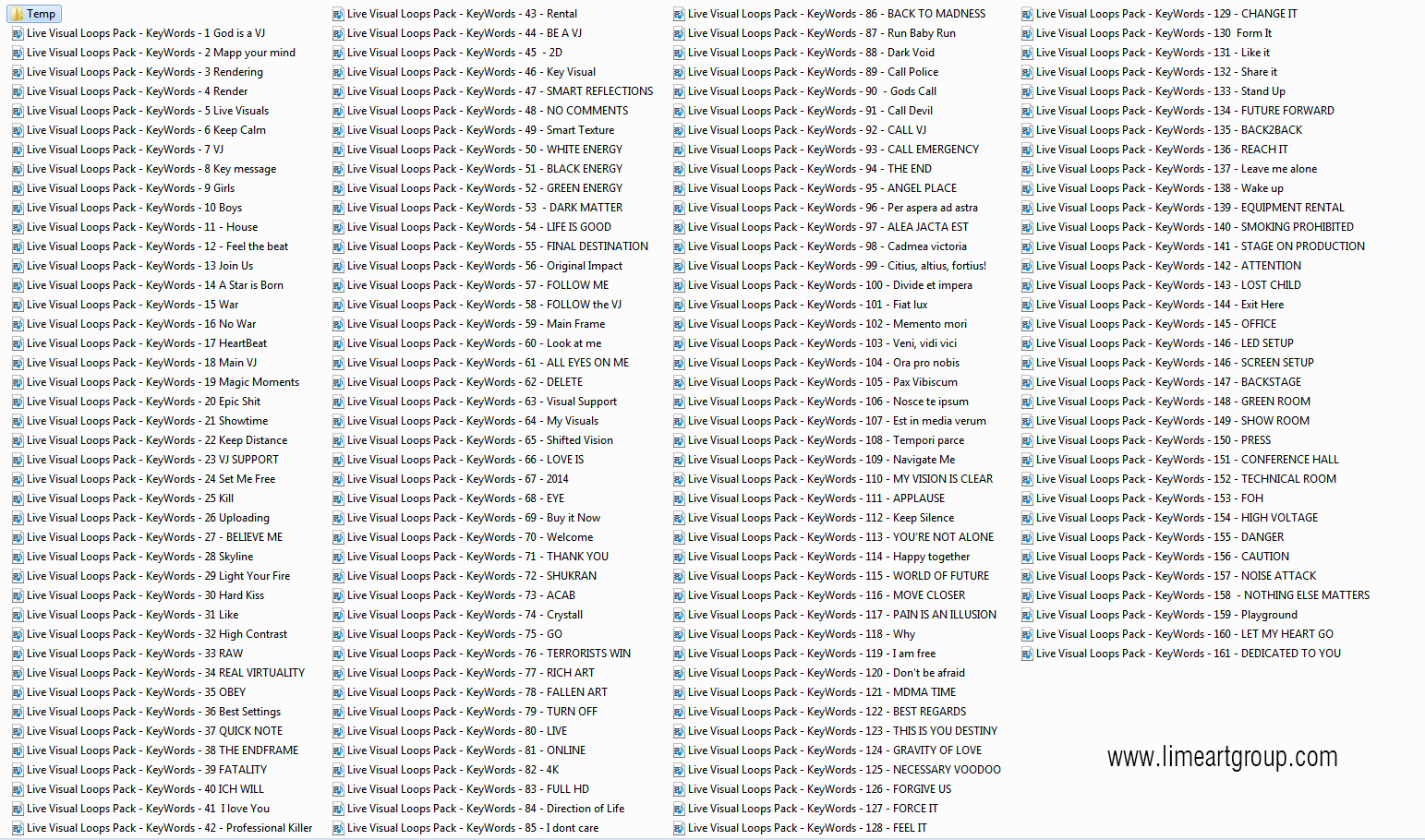 59.00€ Add to cart
Full HD, 29 fps, Abstract, Dxv, Blinking, Disco, Futuristic, Glitter, Text, typographics, DJs, Looped Video, VJ Share, VJ Base, Audiovisual, Glamour, Video Wallpaper, Seamless Looping, Flashlight, Vj mix, Torrent, VJ Graphics, VJ Store, Trippy visuals, Church, Video jockey, Animated Typeface, Slogan, Key Visual, Typefont, Animated typography, Type faces