What is the most commonly used resolution in VJing and video art industry?
From time to time, I do mass voting on my social profiles to analyze the current trends in the international market. This is also useful for our LIME ART GROUP company, as we want to know what kind of video footage to provide to our clients. We want to keep up with the times, and we want our customers to receive only the most requested content that meets today's requirements. In our summary, it is not very important to analyze each resolution or format very closely. It is important to understand the demand and trend of the market.
 So, Here are the results of the voting. To the question:
What resolution do you often use in your VJ projects today?
First place – Full HD 1920×1080 – Over 60% of the surveyed VJs use it.
Second place – UltraHD 3840×2160 – Approximately from 15% to 20% of VJs use it.
Third place – 4K 4096×2304 – About 5-8% of VJs. 4K resolution scored the same amount, in a slightly different aspect ratio of 4096×2160, also 5-6%. Theoretically, we can combine all the additional 4K resolutions into one dataset. We'll get the same figure – 6-8%.
Fourth place – Ultrawide HD 5760×1080 (we came up with the term). – That's three times Full HD, only with the standard height of 1080. This resolution is used by less than 3% of the surveyed participants.
Fifth place – 8K 7680х4320 – Less than 2%.
Further, all other resolutions got less than 1-2% or are not used at all.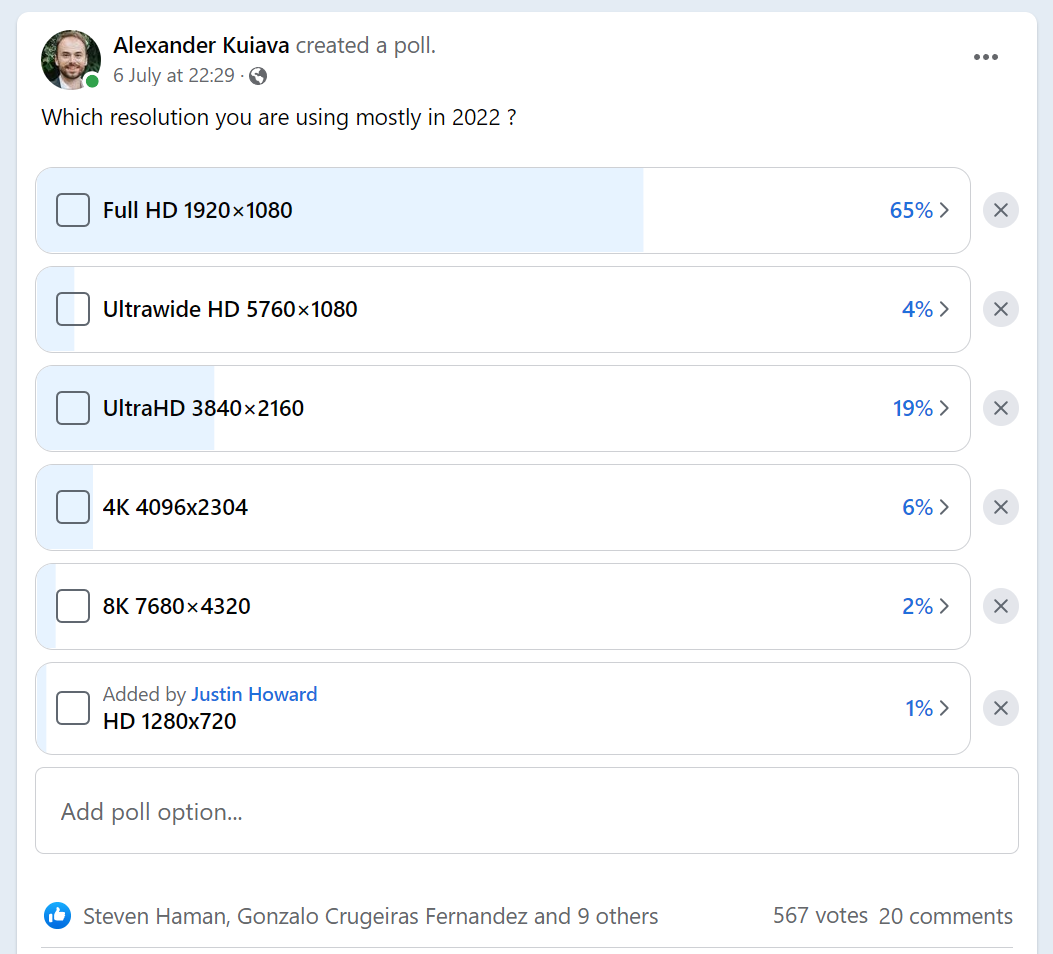 What can we conclude?
With all the development of AI technologies, the release of new cool RTX video cards, the organization of even more colorful events, in most cases, VJs and media artists use Full HD 1920×1080 resolutions for their video performances.
Most likely, this is due to 2 factors:
Owning projectors or led screens with this resolution.

Or provided from a customer specifications to video content or output.
On the other hand, it seems to us that it is not appropriate to work with 4K resolution everywhere today. Since, for example, if the viewer is at a disco or a concert 30 or 50 meters from the screen, too much difference in video quality will not be noticeable at all. And the load on the processor and video card will increase …
In our VJ Loops Shop today, about 50% of video content is created in Full HD 1920×1080 resolution, another 40% is UltraHD and 4K. We left the other 10% for development in 8K.
I hope this information was useful to you. Read our blog to be up to date with the latest trends in VJing and projection video show industry. 
Best wishes from Vienna,
Thanks for your attention, faithfully yours,
Alexander Kuiava – Founder & CEO LIME ART GROUP
https://alexanderkuiava.com/
Exclusive Visuals for VJ's
Royalty Free VJ Loops by LIME ART GROUP