Browse Midi-Controllers for VJs & Visual Artists
Finding the best midi controller for VJ's and narrowing it down to one or two can be difficult. Each artist has their own playing style. Artists also use different software tools to play live visuals. Having narrowed down a few key elements. LIME ART GROUP prepared the best list of midi controllers for VJS.
Why do you need a midi controller?
There are many reasons to use a midi controller, top amongst them is being able to control. As a VJ an external midi controller is one of the most important pieces of hardware you will own. Midi controllers allow you to control various options at the same time. Giving you the ability to mix content in sync with the DJ. To control speed, clip triggering and opacity at the same time gives great freedom. Without a midi controller for vjing, you are at the mercy of a keyboard and mouse. When playing a live set it's difficult to control all elements without a controller.
What to keep in mind when buying a midi controller for VJing?
3 things are important to keep in mind when buying a midi controller for vj(ing).
Buttons – to trigger clips, if that's your style.
Faders – for quick effects and layer opacity.
Knobs – for some more effects and controls.
Buying a midi controller with piano keys is usually not useful for a visual artist.
Big companies don't make midi controllers for VJs :(. Most midi keyboards are being designed for musicians. That's why you need to adapt a controller to your needs. Buying a midi controller with piano keys is usually not useful for a visual artist or vjs. They take up extra space and bulky to carry/set up behind the console. If you want to piano trigger clips, you can set up your keyboard as a midi controller and use them to trigger clips. Keeping this in mind, that we are looking for controllers without piano keys. Plenty of sliders/knobs for effects control and buttons to trigger effects/clips. Let's get down to talking about the best midi controller for VJs.
Best midi controllers for VJs – LIME ART GROUP

Having seen many VJs use this keyboard, the Akai APC40 is a popular choice.
It has many sliders for which you can map to layer/effect opacity. The knobs on top are perfect for master controls like logos/speed/effects. Live performance becomes easier when using an Akai APC40 midi controller.
Features:
Designed in partnership with Ableton for Ableton Live
Unique clip matrix with multicolor lighting displays current clip status
No mapping required; every knob, button, and fader is customizable
Solid, professional feel with rugged, metal chassis and premium controls
Comes with Ableton Live Akai Professional APC40 Edition software
Works with standalone editions of Ableton Live
USB plug-and-play connection for Mac and PC
Premium controller with rugged, metal chassis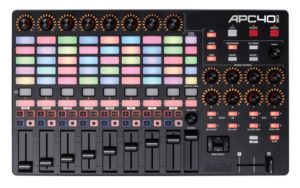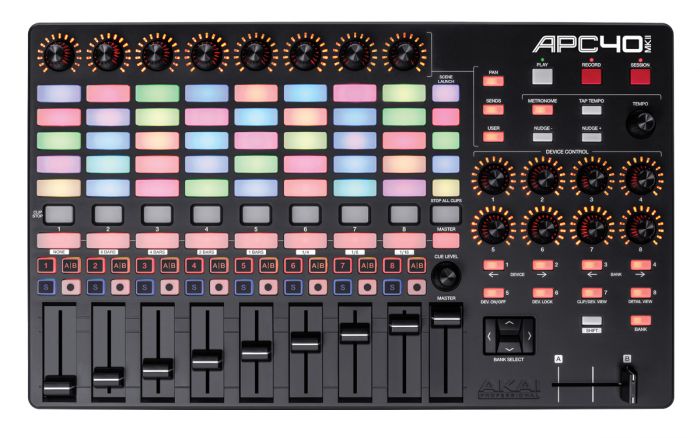 APC40 mkII is a newer version of the APC40. A great Midi controller for VJs. It has just the right amount of faders, knobs, and buttons to give you perfect control over your set. The layout of this keyboard matches the popular VJ software Resolume. So if you are a Resolume user you will find this Midi controller to be very intuitive while performing.
Features:
5×8 clip-launch matrix with RGB feedback for clip status and color coding
Assignable A/B crossfader for dynamic mixing on the fly
9 channel faders, 8 control knobs, and 8 device controls
USB-powered and plug-and-play connectivity for Mac and PC
Easy to use layout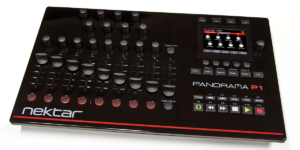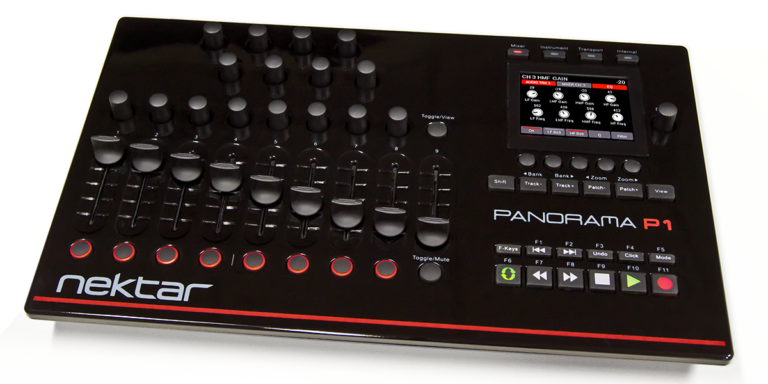 Nektar Panorama P1 is a small lightweight Midi controller, that you can carry in a 17″ laptop bag. Comes packed with powerful controls, a digital display gives you Midi info. You can store 20 presets individually, giving you more than 1200 combinations. This is a versatile Midi controller that will surely take your VJing skills to the next level.
Features:
16 Encoders
9 45mm faders
10 LED buttons
28 buttons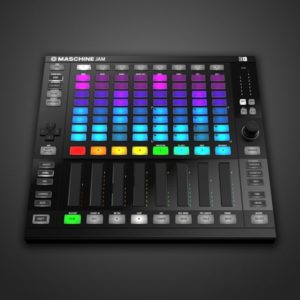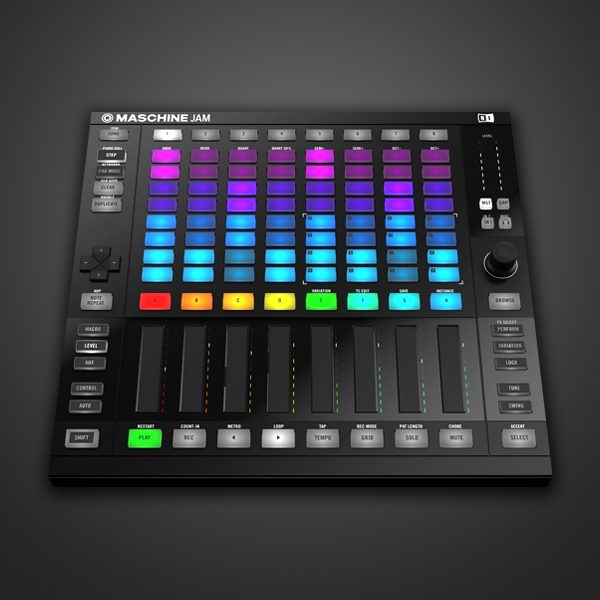 A superior state of the art Midi controller from Native Instruments. A sleek controller with touch faders, perfect for assigning later opacity and effect controls. Plenty of buttons for you to trigger clips. It does not have any knobs, which may be a drawback for some artists. It does have some unique features like step sequencing, which allows you to trigger sequenced clips.
Features:
MASCHINE JAM's dual-touch Smart Strips are truly one of a kind.
Create your own patterns and rhythms with MASCHINE JAM's powerful step sequencer
64 multi-color, high-quality, illuminated step matrix buttons
8 Touch Strips with realtime multi color indication, multi-touch (Smart Strip functionality)
8 multicolor group buttons and 8 multicolor scene buttons
31 backlit click buttons
1 touch-sensitive push encoder
1 Backlit Directional PAD
1 Footswitch Input
USB 2.0, 3.0
Kensington lock

The novation launch control XL has enough knobs and sliders. You can fine-tune and map your entire performance using this midi controller. With 16 buttons, 8 faders and 24 knobs you can't go wrong. From regular sets to performing at mega-events, this midi controller will be perfect. This is a great midi controller for VJs.
Features:
24 rotary pots with 300-degree motion
24 multi-color indicator LEDs – one for each pot
Eight 60mm Faders
16 assignable multi-color backlit buttons
8 assignable backlit buttons
2 backlit template select buttons

The Korg NanoKontrol is perfect for those who travel a lot. A small form and lightweight controller. With enough controls to give you the performance edge, but not too big to carry. It features 8 faders and 8 rotary controls. Four buttons for each fader and full transport controls and assignable jog-wheel.
Features:
USB and wireless for more visual freedom.
8 knobs, 8 siders, 32 buttons
Transport buttons
Jog Wheel

Livid Instruments makes quality midi controllers. This is one of the best midi controllers for VJs. Giving you ample options to customize your set. 81 assignable buttons make clips triggering a breeze. A cross-fader for those who love to use A/B Deck to play out visuals. Plus the 8 faders and 12 knobs spoil you for choice. Another good midi controller for VJs.
Features:
USB powered and completely driver-free
Use up to seven colors to create custom visual layouts
Ultra-lightweight
Heavy-duty aluminum construction

This is one of my favorite midi controllers. Reminds me of the Berhingger BCR 2000. The perfect amount of knobs and sliders for controlling various aspect live visuals. Leaving the clips triggering to be either mouse or keyboard controlled. A simple midi controller for VJs that does the trick.
Features:
44 rotary knobs
25 RGB backlit buttons
9 60mm faders
4 push buttons
Rugged Design
These are the best controllers in the market currently, for VJing. Comment below with your favorite MIDI Controller. And don't forget, that for delighted performance You need not only a pro VJ hardware but also Visual Content, Visuals and VJ Loops which you can download in our LIME ART GROUP VJ Shop. Create Art. Make Show. Be a VJ!
Best wishes from Vienna,
Thanks for your attention, faithfully yours,
Alexander Kuiava – Founder & CEO LIME ART GROUP
https://alexanderkuiava.com/

Exclusive Visuals for VJ's
Royalty Free VJ Loops by LIME ART GROUP