How much do VJs earn these days?
How much can you earn today by creating video vjing shows at concerts and discos?
How much do event organizers pay VJs?
If you are interested in one of the above questions, in this article, on the LIME ART GROUP company blog, you will find the answer you need. We know from personal projects that there are different customers, different budgets and scales of events. Also, assessment and payment of work in each country is different. For example, a VJ in the USA will not work for $200. At the same time, somewhere in India or Pakistan, you can live for a whole month with this money… but we will not focus on the international economic situation, but try to ask our colleagues with what fees they have been working most often in the VJ industry for the past few years and try to find a middle ground…
 A certain time ago, I asked a question in a thematic Facebook groups for VJs.
How much do you get paid for a regular event, VJing at a festival or in a club for about 4 to 7 hours of work?
I must say right away that I did not specify any additional inputs. You need to create content or not, you need to bring your gadgets, such as projectors, or not. Is the fare included in the fee or not…
The main thing is to see the average level of earnings in the industry and come to logical conclusions. And so, as we see from the voting, the leader among the fees is 200-400 dollars for booking a concert or disco event. Another indicator of $400-600 is almost approaching it. It turns out that more than 50% of the respondents work with an average fee of $500. Only 10-12% of VJs work with a fee of 600-900 dollars. And less than 5% work with a fee of more than 1000 dollars for 4-7 hours of VJing in a club or at a concert.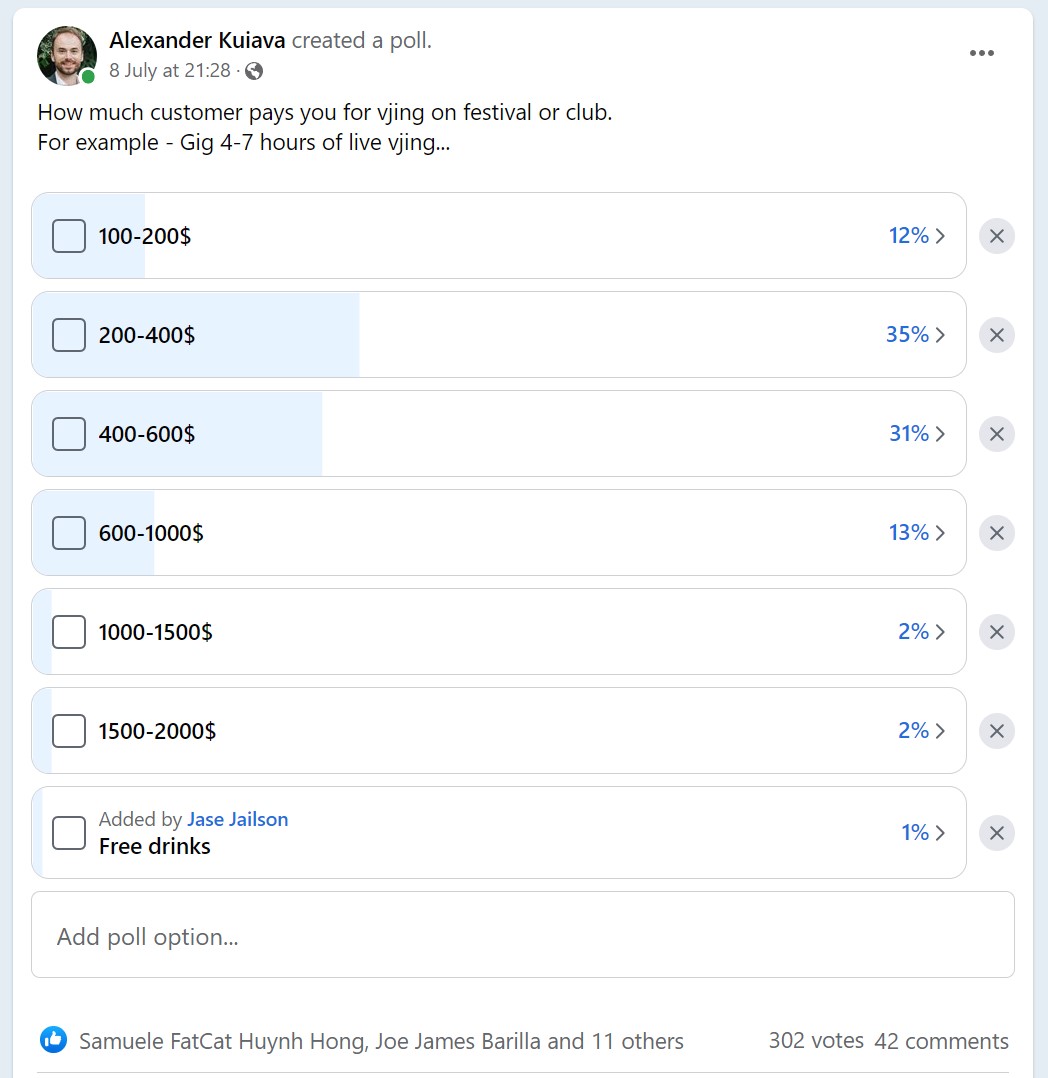 Simple math.
If we take $500 as an average and multiply by the approximate number of working days per month, say 21, we get $10,500 per month. And that's assuming we have 21 performances a month. So, these numbers and calculations show that it is possible to earn so much. The question is, will there be so many orders in your market?
Are there so many dance clubs, events and festivals in your city or region that need a VJ?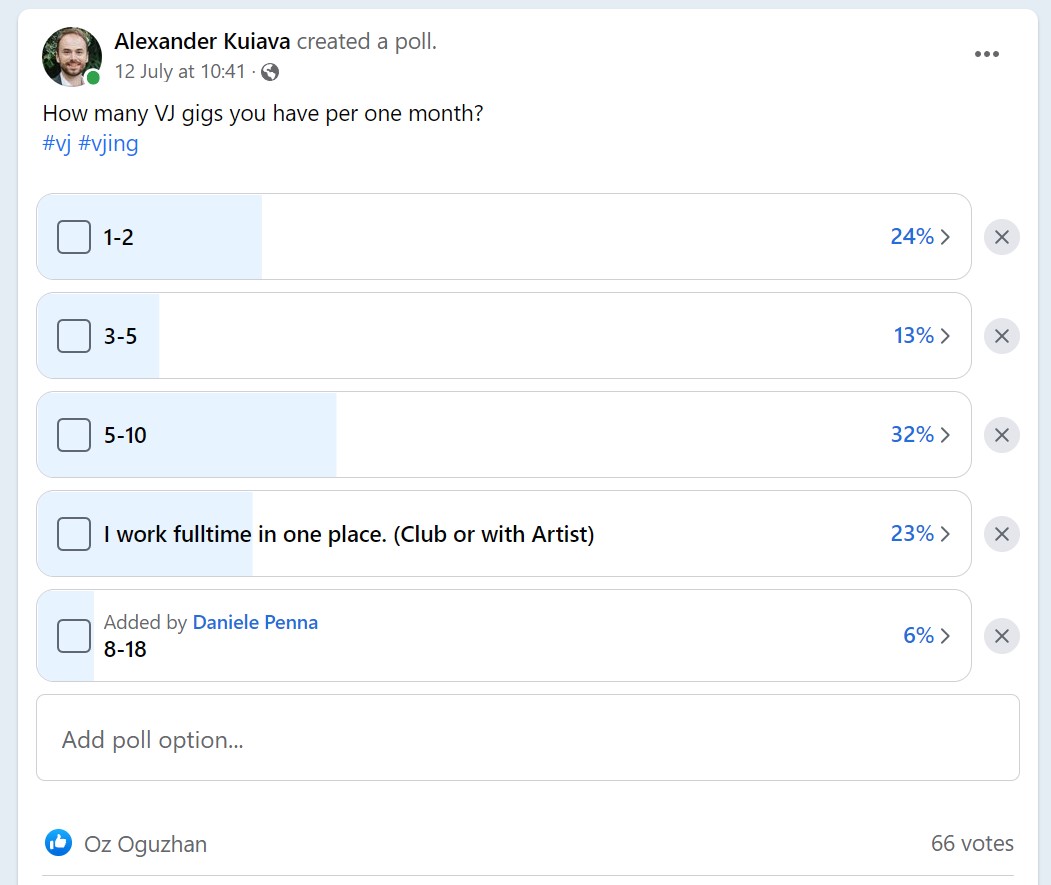 But even if we reduce the number of orders by almost half, for example, to 8. That is 8 * 500, we will receive $ 4,000 per month, which is not so bad, if we understand that the remaining 22 days in the month will be completely free for us ….
In this vein, it is very funny to me sometimes to read some comments from hostile colleagues who write that $99 for a collection of 25 vj loops videos in 4K resolution is expensive or overpriced…
I think from 3 to 5 thousand dollars a month, it is possible to easily get by working as a VJ in developed countries, or in countries that are developing, and buying a video collection of footage from us one-time, they stay with you forever without additional future royalties, which in fact increases your income from new performances in the future.
---
In the next article, I will write a large list of criteria for what needs to be done in order for a VJ to earn more on performances and increase his income. Follow the LIME ART GROUP blog for updates.
Best wishes from Vienna,
Thanks for your attention, faithfully yours,
Alexander Kuiava – Founder & CEO LIME ART GROUP
https://alexanderkuiava.com/
Exclusive Visuals for VJ's
Royalty Free VJ Loops by LIME ART GROUP